Born and bred in Perugia, he was shaped from water and flour playing next to the family oven, a magic place where - from his earliest years - he learnt what it means to live the hard life of a baker.
After 20 years at the family firm, Il Forno di Pioppi, and a diploma in applied bio-chemistry, he has decided to follow his vocation as a liberoimpastatore ("free-spirited dough kneader"), as a consultant to the baking sector for mills, bread shops, pastry shops, pizzerias, restaurants, catering firms and suppliers of raw materials, semi-finished products and professional equipment. His work includes:
• Bakery product analysis and planning for sector operators;
• Creation of bakery products;
• Charting production methods for bakeries, pizzerias and cake shops;
• Customer service and sales network creation in the baking sector;
• Support for baking start-ups;
• Research and development in the use of flour, yeast, sugar, fats and semi-finished products in the baking sector.

As far as the business of creation, management and production of bakery products is concerned, Andrea Pioppi follows the philosophy of the liberoimpasto (basic dough in movement), and – together with clients – develops recipes in line with the client's production facilities, taking into account the available ingredients, equipment and staff experience. As a coach, Andrea the liberoimpastatore takes a holistic approach to his work, always bearing in mind the "energy" of the people involved in the baking process, which he sees as the "soul" of the workplace.

His methods, which he adapts according to clients' individual needs, include both theoretical-motivational and practical-productive sections.



CHARITY work


He has worked with Caritas Umbria, with Frontiera Lavoro to create the "Gulliver" social cooperative – SOLIDARITY OVEN at Terni prison, with the Humanitarian Aid Association "Un forno per Kinshasa" ('An Oven for Kinshasa') and with the Umbrian section of the Italian Coeliac Association.



INTERESTS


Andrea is a great lover of R&B, soul and funk music, and plays the drums in the SOUL SEVEN.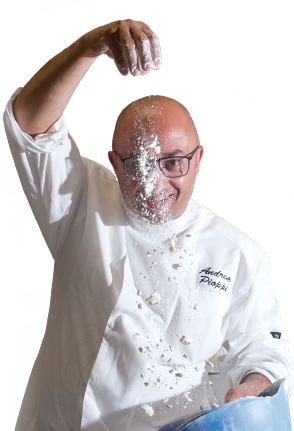 HIS DREAMS


He dreams of improving people's lives – and his own – thanks to 'emotional kneading therapy', of giving the world more liberoimpastatori, while being aware that teaching involves more than just knowing how to do things.